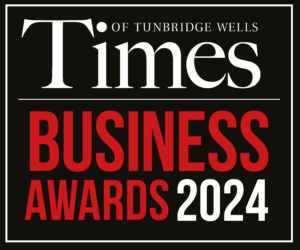 "Recognising Excellence in Local Business"

Black Tie Gala Awards Ceremony
Salomons Estate
Thursday 14th March 2024, 17:30 - 01:00

The Times Business Awards 2024 is set to return with a glittering event, bigger and better than ever before. Building on the successes of previous years, the best in local business will be celebrated with a black-tie gala in the stunning surroundings of the Salomons Estate.
After a welcome reception and indulgent three-course dinner; judges, finalists, and guests will be welcomed by ballroom legend Brendan Cole!
Mr Cole has said "I am pleased to have been asked to present the Times Business Awards for 2024 in Tunbridge Wells. I'm looking forward to being part of honouring the best businesses that have triumphed over the past year. Hard work, a little luck, deciding which door to walk through when an opportunity presents itself and creating the opportunities for yourself, I believe, underpin success."
The Times Business Awards celebrates excellence and exceptional achievements across local firms. The Awards aim to honour the spirit of innovation & talent and is an opportunity to provide local entrepreneurs with the recognition they deserve. 
After the awards have concluded, the night continues with entertainment until 1am, providing the opportunity for attendees to celebrate the evening's wins.
The Times Business Awards 2024 Headline Sponsor:
The Times Business Awards 2024 categories:
Start-Up Business of the Year Award
Creative Business of the Year
Charity of the Year 
'Green' Business of the Year 
Best Family Business of the Year Award
Best Business 1-25 Employees Award
Best Business 26+ Employees Award
Outstanding Business of the Year Award
Retailer of the Year
Food and Drink Hero
If you have any questions regarding the awards/nominations please email hello@timesbusinessawards.co.uk
THIS YEAR'S AWARD CATEGORIES
START-UP BUSINESS OF THE YEAR AWARD
This award recognises companies founded since January 2022, which have been attracting lots of attention.
CREATIVE BUSINESS OF THE YEAR
This is a very strong sector for Tunbridge Wells, covering the creative, design, marketing and PR sectors which have made our town their home.
For this category, judges will analyse the charities and not-for-profit organisations which play such a positive role in the life of our area, looking for impact, sustainability and imagination.
'GREEN' BUSINESS OF THE YEAR
This category will recognise companies for their commitment to the environment, whether through reducing energy usage, 'localising' their supply chains or any other green initiatives.
BEST FAMILY BUSINESS OF THE YEAR
The judges will be looking for the business that best demonstrates how running a family business has added significantly to its competitive advantage. The winner will need to show how being a family business has had a positive impact on its achievements.
BEST BUSINESS 1-25 EMPLOYEES
This award is for companies with a workforce of up to 25 which have maintained consistent growth and strong financial performance, both meeting customer expectations and supporting employee welfare and growth.
BEST BUSINESS 26+ EMPLOYEES
Consistent growth, financial performance and an engaged, positive workforce are just some of the criteria that set these companies apart from other medium to large businesses in the area.
OUTSTANDING BUSINESS OF THE YEAR
This award will reveal which company demonstrates the best combination of growth, ambition and quality of management in the area. The 'outstanding' company has delivered on a compelling business strategy, while developing its employees' skills and looking after staff.
This new award, voted for by the general public, will recognise outstanding contributions made to the local area by a retailer. Open to retailers large or small, with a local or national presence. 
This new category, also voted for by the general public, is for local companies that produce or serve the very best in food and drink, especially those that source locally and sustainably. All kinds of establishments are eligible, from fine-dining restaurants to small-scale producers. 
This year we have introduced two brand new categories that will be voted for by you. This is your chance to nominate your favourite local businesses in our 'Retailer of the Year' and 'Food and Drink Hero' categories, giving them the ultimate accolade of being the Tunbridge Wells peoples' favourite places to eat, drink or shop…
Simply fill out the form below to cast your vote, entries close on Thursday 1st February 2024!
"We entered the Tunbridge Wells Business Awards as we have been in Tunbridge Wells for 25 years and there has never been an award/event before. There had been a great buzz since the Tunbridge Wells Times was launched so we thought it would be a good thing to do.


We were very excited to find out we had been shortlisted to receive an award. We attended the Awards Ceremony which was excellently organised and were absolutely thrilled when we won our category, 'Service Excellence'. There were a lot of important local business people in attendance. It was particularly gratifying when our name was read out as the winner and there were lots of cheers from around the room from people who knew us (some clients, some not). Participating in this is a no-brainer for any local business!"
NICK BRANDON -
SALES DIRECTOR FIRST OFFICE SUPPLIES
"I was honoured to be asked to be a judge at the Business Awards. It is a wonderful opportunity to recognise the multitude of talented businesses and business people in the area, both established and upcoming."


DARREN AUSTIN -
PARTNER/OWNER SYNERGEE
"We entered the Times of Tunbridge Wells Business Awards last year, and we're delighted that we did… we were fortunate enough to win Creative Business Of The Year, which was a huge reward to the team for all the hard work we do, and helped underpin our credentials when talking to clients. Since the awards, we have had some great coverage as a result, leading to new clients and generally a real feel good factor within our team and any local networking event we attend. To top it all off, the Times of Tunbridge Wells put on a fantastic awards ceremony, and we had a great evening celebrating!"
LARRY HARDCASTLE - MANAGING DIRECTOR STUDIO44
"Russell Fewins Ltd were a proud sponsor of the Young Business Person award. We had a very positive experience in terms of our involvement as a sponsor as well as the unexpected added bonus of raising our own company profile in our local area. We would like to congratulate the organisers on creating such an innovative way of recognizing and highlighting local business talent."
MICHAEL PUSZYK -
PROJECTS DIRECTOR RUSSELL FEWINS LTD